Your Alaska Specialists: Alaska's "Inside" Inside Passage
by Your Alaska Specialists

Alaska has long beckoned the curious and adventurous. A century ago, John Muir's wanderlust led him here to study "the wild places." Generations later, countless others followed in his footsteps. Their intensions are the same - to witness first-hand the amazing array of natural wonders that are Alaska.

There is no better way to see and experience Alaska than via a small ship cruise.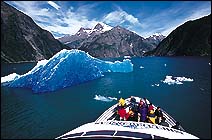 Imagine the feeling of looking out your window as the early morning mist rises gently from the crystal clear water, giving way to the sun as it breaks the dawn to highlight towering snowcapped mountains. The only sound you'll hear for the next several hours will be the gentle splash of your kayak paddle. In the distance, black bears roam the shoreline and bald eagles perch atop old growth evergreen trees. Later, the ship stops to watch humpback whales feed, breach, and spy hop.

The passageways and inlets of southeast Alaska are numerous - yet each summer, only a few are truly explored. Larger ships turn away, choosing the well-traveled routes. Only a lucky few, on smaller boats or expedition vessels, experience and explore these waters. Small ships with Zodiacs and kayaks allow guests to come even closer to the tranquil waters, drifting ice, and native wildlife.

There are many different options of small ship operators in Alaska and the experienced staff at ExpeditionTrips.com is here to help you find the perfect vessel and itinerary. We work with all the smaller ships, know the region well, and can easily find just the trip you are looking for. The following are just a few examples:

For over 50 years, Cruise West has been introducing guests to the beauty and history of Alaska remote wilderness and small towns. With a fleet of ships averaging about 70-80 passengers, clients enjoy learning from skilled naturalists and a staff that takes pride in offering the finest quality programs. Cruise West offers a great option for those who are looking for an easy, soft-adventure experience. Onboard, the atmosphere is casual and the program enriching.

Also offering easy, soft adventure is Clipper Cruise Line. Clipper's 138-passenger Yorktown Clipper features top-notch service and hospitality.

Lindblad Expeditions and Glacier Bay Cruiseline offer active small ship cruises in southeast Alaska, including a wonderful variety of adventures in the Inside Passage and Glacier Bay National Park, aboard uniquely different vessels ranging from 34-96 passengers. Your comfortable ship, good food and knowledgeable staff are complemented by kayaking and hiking excursions suitable for all abilities.

If you are considering a family vacation, Alaska is a great destination and small ships of all types are ready to charter for a special family occasion. Utilizing two yachts, one accommodating 12 passengers and the other 22, American Safari Cruises organizes exclusive Alaskan itineraries through the Inside Passage as well as from Juneau to Sitka or Juneau to Prince Rupert. The yachts provide an excellent blend of luxury and adventure with fine cuisine, comfortable staterooms, Zodiacs and kayaks, and onboard expedition leader/naturalists.

After your journey comes to an end, and you return home, Alaska's beauty and stillness will seem almost unreal. Your memories of paddling with humpback whales or walking on a glacier will surely last a lifetime. ExpeditionTrips.com invites you to journey north to discover "the wild places" for yourself.