Art Wolfe: Through the Lens: Artistic Adventures in Alaska
by Wayne Mayer

Nature photographer Art Wolfe thinks ecotourism is crucial to the long-term survival of biodiversity. He should know. Wolfe has explored hundreds of locations across every continent to photograph phenomena that few people would otherwise get to see. Hundreds of books and magazines around the globe carry his images. Over the last quarter-century, he has released more than 40 books. His most recent effort, due out in September, underscores the value of wildlife, landscapes, and native peoples. "Ecotourism brings more people to remote places like the Tongass forests in southeast Alaska," he says. "The more people care about these places, the louder the voice is when species are threatened; the better the chance for preservation."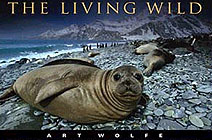 "Sure," Wolfe acknowledges, "there is concern that too many people stress these fragile rainforests and tundra, but the benefits of tourism outweigh the stresses." Natural history cruises play a critical role in protecting threatened environments, both by public outcry and economic input. "If a town in southeast Alaska makes more money from tourism than from logs or fish, the community's economy evolves towards conservation."

Wolfe has often traveled on small ships, especially during his voyages to Alaska. "You're able to get off the ships and out to the animals," he explains. Natural history tours arrange off-ship excursions in Zodiacs. The ship might shuttle passengers to the Tongass National Forest or close to a pod of humpback whales. The tours are both personal and educational. Smaller boats are also lower in the water and offer better angles for photography.

Wolfe draws on his twenty-five-year career to offer some insights into getting that great wildlife shot. "When approaching subjects," he says, "pay attention to the animals. Move slowly and quietly. Do not surround them; always allow animals plenty of room to move. If animals feel stressed, they leave and you don't get good photos."

In general, Wolfe recommends films with speeds of 100 or 200 that can be pushed to faster speeds if necessary, based on light conditions. Higher film speeds allow you to "freeze motion," an important consideration when shooting from a boat. In southeast Alaska, Wolfe suggests faster film and a tripod because of the gray weather.

Lenses with image stabilizers are great on deck because they counteract a ship's rocking motion. In the forest, use a tripod to hold your equipment steady in low-light environments. His favorite lens for southeast Alaska is an 80–200 mm zoom with a 1.4 extender so that the range stretches to 280 mm. "You can capture humpback whales with an 80–200 mm zoom and ASA 200 film," says Wolfe. To click shots of black and brown bears on shore, he recommends a 600 mm lens and a 1.4 extender. "The long lens is almost mandatory to safely photograph bears in the wild. Besides, in Alaska's fjords you can't get close to bald eagles, but with a 600 mm lens and a tripod, you can capture an eagle's power and beauty from the deck of a ship."

Summarizes Wolfe, "small ships provide excellent ways to see sea lions, seals, whales, eagles, bears, caribou, reindeer, millions of shore birds, take pictures, and come away from the experience understanding the importance of wildlife conservation."



Footnote: When he's not exploring the Earth's farthest reaches, Art Wolfe resides in Seattle, Washington, and gives lectures and multimedia presentations about his travels. Art Wolfe's captivating images have appeared in hundreds of magazines and books around the world. Since his debut in 1978, Wolfe has released 41 books and he has 12 more in preparation including The Living Wild, which will be released in September. For more information about The Living Wild, log on to www.WildlandsPress.com. To learn more about Art Wolfe and his photography, visit www.ArtWolfe.com.